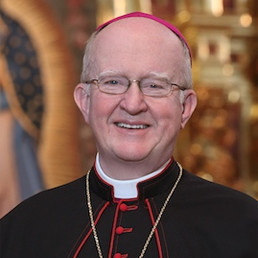 Bishop Kevin W. Vann
Bishop of Orange, Christ Cathedral
His Holiness, Pope Benedict XVI announced the appointment of Bishop Kevin W. Vann as the fourth Bishop of Orange. Bishop Vann has led the Diocese of Orange — the 11th largest diocese in the country and the second-largest west of the Mississippi — in its multicultural mission to meet the social, economic and spiritual needs of the region's increasingly diverse Catholic population. He continues to lead the historic effort to transform the former Crystal Cathedral from a world-renowned center of Protestant worship into the West Coast's most visible center of Catholicism. Read More…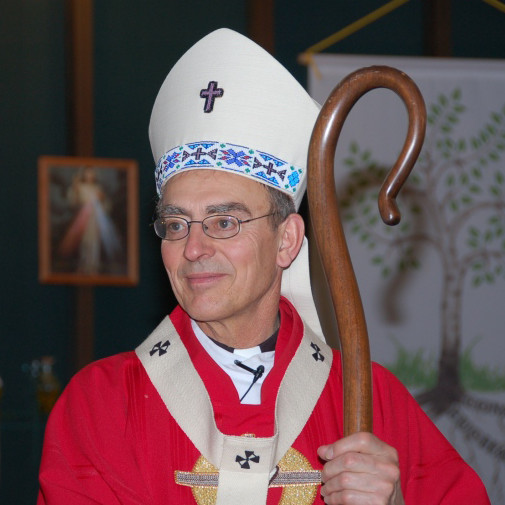 Archbishop Sylvain Lavoie
Chaplain, Spiritual Director, Author, Presenter for the Star of the North

Archbishop Sylvain Lavoie is a missionary Oblate who has spent over 35 years ministering among the Indigenous peoples of north and central Saskatchewan, Canada, and speak some Cree. As archbishop emeritus of the Archdiocese of Keewatin-The Pas, he now serves as chaplain and spiritual director at Star of the North Retreat Center in St. Albert, Alberta, lecturing and giving workshops, missions, and retreats. He is the past chair of a Standing Committee on Indigenous Affairs of the Western Catholic Bishops. He has authored
four books on Indigenous ministry, addictions awareness, personal growth, and the healing of sexual abuse. He loves being outdoors, sailboarding, kayaking, gardening, and driving my scooter.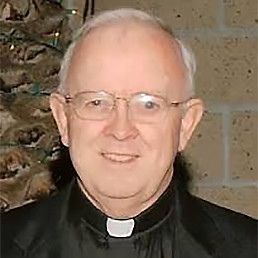 Fr. Michael Barry SS.CC
President and Chairman of Mary's Mercy Center, Healing Ministry, Member of Congregation of the Sacred Hearts of Jesus and Mary
For decades, Fr. Barry has conducted numerous retreats and workshops. This charismatic priest is best known for his healing ministries, primarily through Retreats, Healing Masses, Healing The Family Tree, and Spiritual Direction. He graduated from the Catholic University of America and was ordained on June 14, 1964, as a member of the congregation of the Sacred Hearts of Jesus and Mary.
A priest for over 50 years, Fr. Michael Barry has served as the provincial for his congregation's western province in the USA, at which time Pope John Paul II granted him the Pro Pontifice et Ecclesia Award. He is the former director of the San Bernardino Diocese Evangelization Ministries.
Fr. Barry is the founder of Mary's Mercy Center, Mary's Table, Veronica's Home of Mercy, and Mary's Village. He welcomes approximately 300 volunteers of various faiths throughout Southern California, providing thousands of meals every month for the homeless and a home for single and unwed mothers.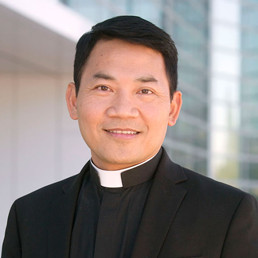 Fr. Bao Thai
Christ Cathedral Rector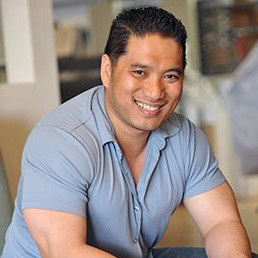 Keith Hoang
Spiritual Public Speaker, Author, Entrepreneur
In 1999, Keith founded
HansonEllis.com
with his wife, Tracy. The business quickly ranked #1 by BRIDE magazine (national magazine) after six months of its launch for the best online wedding favors e-commerce store. It soon became a leader in the industry for personalized gifts. He is a recognized entrepreneur for his business leadership skills and online success in Torrance and Redondo Beach, California. Today, Keith is committed to restoring the Truth to the people of all nations. Keith's greatest joy is sharing his faith as a spiritual public speaker and spending time with his family. He is inspired by Mother Teresa of Calcutta and St. Francis of Assisi. 
Learn more about his journey
.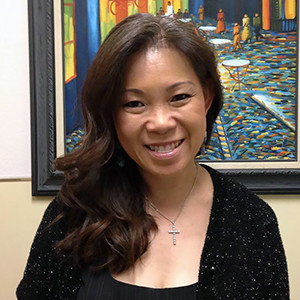 Tracy Hoang
BFG Treasurer
Spiritual Leader, Entrepreneur
Co-founder and Creative Director for HansonEllis.com, a Wedding and Gratitude Company.  Tracy is married to Keith, and they have five beautiful kids together. She grew up in a Buddhist family and was transformed to Catholicism after meeting Keith in the early '90s.  Her belief that God and the Family Unit are the core foundation to a life of happiness leading her to become a passionate spiritual enthusiast for Christ.  Walking in faith is an everyday decision, filled with both challenges and rewards. Her devotion to daily prayers and spiritual activities are influenced by the writings of the Doctors of the Church, mostly St. Teresa of Avila.  Tracy is the prayerful support and mothering of the movement.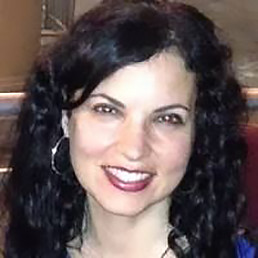 Caterina Krai
BFG Board of Director
Leadership Development, Executive Coaching, Cultural Change, Spiritual Formation & Retreat Leader
Evangelizer, Spiritual/Leadership/Culture Formator, and Bridge Builder