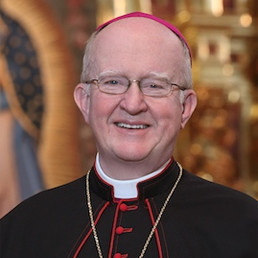 Bishop Kevin W. Vann, JCD, DD
Bishop of Orange, Christ Cathedral
Bishop Kevin W. Vann was born on May 10, 1951 in Springfield, Illinois. He is the oldest of the six children born to William M. Vann, Jr. and Theresa Jones Vann. Bishop Vann is a graduate of Springfield's St. Agnes Grade and Griffin High schools. He attended Springfield College and earned a bachelor of science in Medical Technology from Millikin University, located in Decatur, Illinois.

After working for three years as a medical technologist, he entered the seminary in 1976, spending a year at the Immaculate Conception Diocesan Seminary in Springfield and four years at Kenrick Seminary in St. Louis, Missouri, majoring in theology.

After his ordination on May 30, 1981, he was assigned to graduate studies in canon law at the Angelicum in Rome, with residence at the graduate house of the North American College, the Casa Santa Maria dell' Umilta.

Upon returning to the Diocese of Springfield in Illinois, then-Father Vann was involved in the work of the Diocesan Tribunal and the Tribunal of Second Instance in Chicago. He served as pastor of parishes ranging in size from 35 to 1,300 families, two of which had large schools. He taught canon law at Kenrick Seminary. Before he was named bishop, he was pastor of Blessed Sacrament Parish in Springfield, Vicar for Priests, and the Diocesan contact for Hispanic Ministry.

Bishop Vann was ordained and installed as the third bishop of the Catholic Diocese of Fort Worth on Wednesday, July 13, 2005, at Texas Christian University's Daniel-Meyer Coliseum.

In Texas, he collaborated closely with other bishops through the Texas Catholic Conference and Region X, which includes dioceses of States of Texas, Oklahoma and Arkansas. He is the former Texas Bishops' Liaison to the Texas Mission Council and Texas Catholic hospitals. And, through the U.S. Conference of Bishops, he works with bishops across the United States as well as globally.

Bishop Vann was a leader in the Texas Conference of Bishops, providing leadership for various initiatives at the national level, including service on ad hoc committee which assisted the Vatican's Congregation for the Doctrine of the Faith (CDF) to guide the incorporation of Anglican groups into the Catholic Church of the United States.

On September 21, 2012, His Holiness, Pope Benedict XVI announced the appointment of Bishop Kevin W. Vann as the fourth Bishop of Orange. Bishop Vann has led the Diocese of Orange — the 11th largest diocese in the country and the second-largest west of the Mississippi — in its multicultural mission to meet the social, economic and spiritual needs of the region's increasingly diverse Catholic population. He continues to lead the historic effort to transform the former Crystal Cathedral from a world-renowned center of Protestant worship into the West Coast's most visible center of Catholicism.
Introduction to the new edition of Built For Greatness
Dear friends all,
Following the publication, reception and use of the first two editions of Built for Greatness, [The Christian Edition of the Tao Te Ching] and having reflected the prayed with Archbishop Sylvain LaVioie and Keith D. Hoang, it seems like time is upon us to continue the journey of Built for Greatness with the foundation that has been built in the first two volumes. We turn now to the volume which has been researched and composed by Archbishop LaVioie OMI, which contains Bible verses and verses of the Tao Te Ching, which has been well researched and composed by Archbishop LaVioie. Knowing the importance of the application of Sacred Scripture to daily life, what my work has been here is to take the Bible verses and verses of the TTC, and to apply them to pastoral situations that often find their way into our daily lives: In this way the wisdom and the presence of God which shine forth in the words of the volume of the Bible verses may illuminate the presence of God in all moments of our lives.
Bishop Kevin W. Vann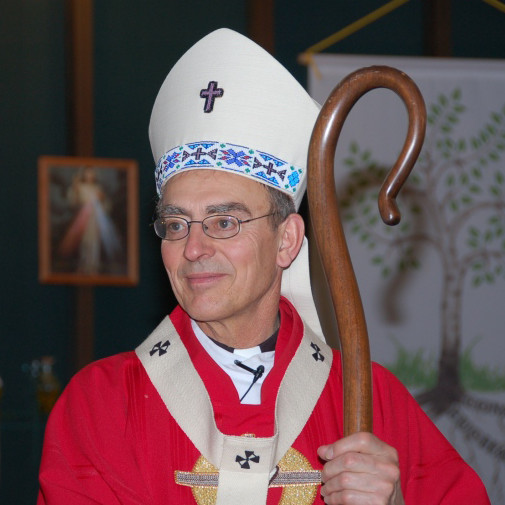 Archbishop Sylvain Lavoie, OMI
Chaplain, Spiritual Director, Author, Presenter for the Star of the North

Archbishop Sylvain Lavoie is a missionary Oblate who has spent over 35 years ministering among the Indigenous peoples of north and central Saskatchewan, Canada, and speak some Cree. As archbishop emeritus of the Archdiocese of Keewatin-The Pas, he now serves as chaplain and spiritual director at Star of the North Retreat Center in St. Albert, Alberta, lecturing and giving workshops, missions, and retreats. He is the past chair of a Standing Committee on Indigenous Affairs of the Western Catholic Bishops. He has authored
four books on Indigenous ministry, addictions awareness, personal growth, and the healing of sexual abuse. He loves being outdoors, sailboarding, kayaking, gardening, and driving my scooter.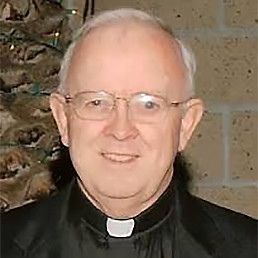 Fr. Michael Barry SS.CC
President and Chairman of Mary's Mercy Center, Healing Ministry, Member of Congregation of the Sacred Hearts of Jesus and Mary
Fr. Michel Barry was born and raised in Cork, Ireland. A graduate of Queen of Peace Seminary, Fr. Barry was ordained a member of the Congregation of Sacred Hearts of Jesus and Mary (SS.CC.) on June 14, 1964. After earning his Master's of Arts in Theology from Catholic University of America, Fr. Barry spent much of his early years working in education. He held several teaching positions at Catholic schools throughout the country. He is the former Vice-Principal of Bishop Amat and Damien High Schools, and he is the former principal of Mary Star of the Sea Catholic High School in San Pedro. His love of teaching and education helped forge lasting relationships with generations of families throughout Southern California. Many of whom continue to support Mary's Mercy Center to this day.
A priest and member of the Sacred Hearts of Jesus and Mary for more than 50 years, Fr. Barry has served as the provincial for his congregation's western province in the United States, at which time he was granted the Pro Pontifice et Ecclesia Award by Pope John Paul II. He is the former Director of the Charismatic Renewal Center for the Diocese of San Bernardino. Fr. Barry is a charismatic priest, best known for his healing ministries, especially through Retreats, Healing Masses, Healing The Family Tree, and Spiritual Direction. He feels a special call to the inner healing of the person.
Father Barry is the Founder, President, and Chairman of the Board of Directors for Mary's Mercy Center. His vision for outreach to the Poor and Less Fortunate began 1987 with Mary's Table. Over time, Fr. Barry grew the ministry to include Mary's Haven and Mary's Village. Today, Mary's Mercy Center stands as a living testament to Fr. Barry's lifelong commitment to the Gospel's teachings, "Blessed are the Poor." Mt. 5:3.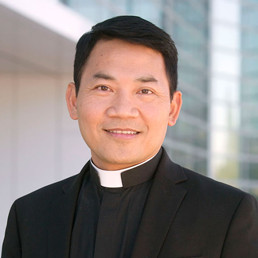 Fr. Bao Thai
Christ Cathedral Rector
Fr. Bao Thai is the rector of Christ Cathedral, the spiritual home of the Bishop of Orange and a major center of Catholic worship on the West Coast. He began in July 2022.
Bishop Kevin Vann appointed Fr. Bao to the position in February 2022. He is the second priest to serve as the cathedral's rector, following the retirement of Fr. Christopher Smith.
Fr. Bao, who was first ordained a priest in June 2003, has served in several positions throughout the Diocese of Orange. Those include parochial vicar for the parishes of San Francisco Solano (2003-2005), St. Anthony Claret (2005-2007), Holy Family Cathedral (2009-2012) and Our Lady of La Vang (2012-2015). Fr. Bao also served concurrently as parish administrator of La Purísima Catholic Church for a six-month period in 2020.
Bishop Vann appointed Fr. Bao as administrator of St. Cecilia in July 2015 and as pastor in 2017.
Fr. Bao is on the board of the Orange Catholic Foundation and has served two terms on the Diocese's Priest Personnel Board. He has also served as spiritual adviser for Magnificat and Viet Respect Life, and as chaplain for the Orange County chapter of the Knights of Columbus.
He was instrumental as an advisory board member for the July 2021 dedication of Christ Cathedral's Our Lady of La Vang Shrine, a contemporary outdoor display devoted to the Virgin Mary as she is believed to have appeared before a group of Vietnamese Catholics in 1798.
Fr. Bao was born in Saigon, Vietnam, and moved to the U.S. with his family in 1993. Fr. Bao holds a bachelor's degree in computer science from Saigon University, a bachelor's in philosophy from Mount Angel Seminary in Oregon, and Master of Divinity and Master of Arts in spiritual theology from St. John's Seminary in Camarillo, Calif. He also holds a licentiate of sacred theology in spirituality from the Pontifical University of St. Thomas Aquinas (the "Angelicum") in Rome.
Fr. Bao is the fourth Vietnamese-American rector of a cathedral in the United States. He is fluent in Vietnamese and English, with good knowledge of Spanish and Italian.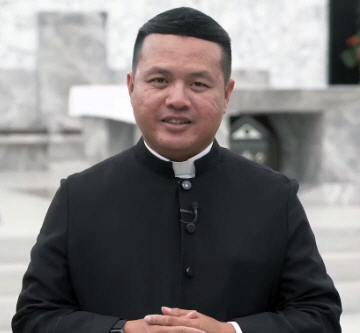 Fr. Michael Khong
Christ Cathedral Secretary
Christ Cathedral Secretary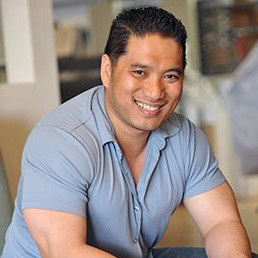 Keith Hoang
BFG Founder, Speaker, Author, Entrepreneur
In 1999, Keith founded
HansonEllis.com
with his wife, Tracy. The business quickly ranked #1 by BRIDE magazine (national magazine) after six months of its launch for the best online wedding favors e-commerce store. It soon became a leader in the industry for personalized gifts. He is a recognized entrepreneur for his business leadership skills and online success in Torrance and Redondo Beach, California. Today, Keith is committed to uniting people of all nations by restoring the Truth of our Faith. Keith's greatest joy is sharing his faith as a spiritual public speaker and spending time with his family.
Learn More…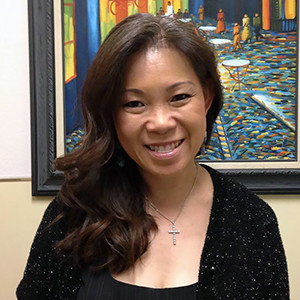 Tracy Hoang
BFG Treasurer
Spiritual Leader, Entrepreneur
Co-founder and Creative Director for HansonEllis.com, a Wedding and Gratitude Company.  Tracy is married to Keith, and they have five beautiful kids together. She grew up in a Buddhist family and was transformed to Catholicism after meeting Keith in the early '90s.  Her belief that God and the Family Unit are the core foundation to a life of happiness leading her to become a passionate spiritual enthusiast for Christ.  Walking in faith is an everyday decision, filled with both challenges and rewards. Her devotion to daily prayers and spiritual activities are influenced by the writings of the Doctors of the Church, mostly St. Teresa of Avila.  Tracy is the prayerful support and mothering of the movement.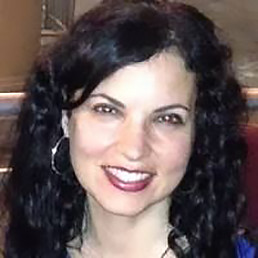 Caterina Krai
BFG Board of Director
Leadership Development, Executive Coaching, Cultural Change, Spiritual Formation & Retreat Leader
Evangelizer, Spiritual/Leadership/Culture Formator, and Bridge Builder